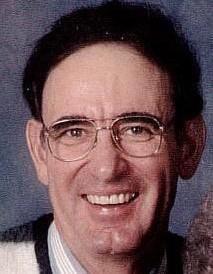 Harvest of Generosity
John 12:24
"I assure you, most solemnly I tell you, unless a grain of wheat falls into the earth and dies, it remains itself alone. But if it dies, it produces many others and yields a rich harvest."
The Sacred Heart High School Endowment would like to announce a recent donation to our endowment from the Gary Hunker estate.
Gary Hunker was the only child of Fred and Helen (Watton) Hunker and was raised on a farm northwest of Rulo, Nebraska. Gary attended Sacred Heart School until 1954.
While on the farm he enjoyed farming and raising livestock. The seed of faith was planted very early on by his parents. Gary and his parents were members of Immaculate Conception Catholic Church in Rulo where Gary was member of the Men's Club and worked various fundraisers over the years. He was an excellent carpenter and built the altars at St. Ann's Church in Shubert, St. Mary's Church in Arago, and Immaculate Conception Church in Rulo. As a parishioner, Gary understood that part of the Sunday collections were for the operational budget of Sacred Heart School and he gladly tithed. Gary's father passed away in 1986 and upon moving to town, Gary continued to give to the school through his tithing at Sts. Peter & Paul Catholic Church. Gary was a quiet man of amazing faith who in later years took exceptional care of his mother. Gary had lunch and dinner with his mother every day at a local nursing facility. Gary's generosity to the school grew stronger every year and he continued to be a contributor to the school through the Annual Fund. Gary's final harvest was a monetary gift in addition to farm ground to Sacred Heart High School Endowment.
Gary would be embarrassed by the recognition of his donations; he would instead want us to pray for his soul and its happy repose. He did what he believed would be a long-standing gift to touch the largest number of people by helping with the formation of our students and their spiritual life. As with any endowment gift, only the interest from Gary's gift will be used for operational expenses for the school; the principal will remain in perpetuity for Sacred Heart School to continue its mission: "A Family Educating Heart, Mind, Body, and Sprit for this Life and the Next".
This is an invitation to consider supporting your local church or Catholic school through donations of stocks, bonds, IRA's, cash, grain, property, land, and insurance policies.