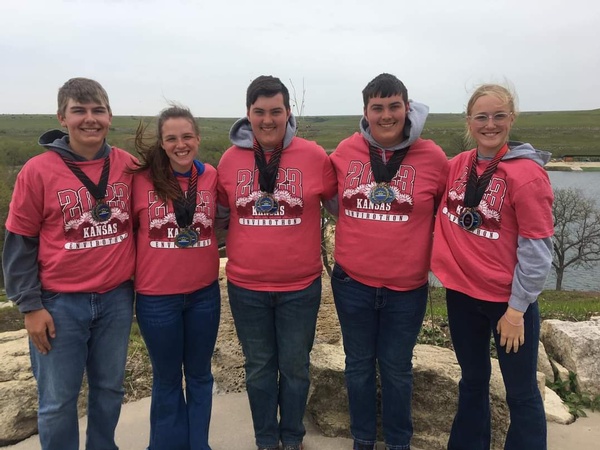 The Holton FFA recentley participated in the 2023 Kansas Envirothon. As a team, the group consisting of Noah B, Maddy B, Jacob H, Jace H and Lora L took 3rd Place overall!
The Team also placed 2nd in Oral Presentation, 1st Place Forestry, 2nd Place Soils, 2nd Place Range and 3rd Place Current Issues. The top 3 final rankings were 1st going to Manhattan High with 555 pts, 2nd St John's Private School in Beliot wit 554 pts and 3rd place going to Holton FFA 539 pts
Although a trip to Canada wasn't in the cards for this crew, they gave it their all and a trip to Indianapolis for National FFA Convention is! As the high FFA team overall and in forestry, they will have their choice to compete in either the National FFA Environmental/Natural Resources CDE or Forestry CDE this October.
This group of 5 sophomores has high goals and plans to be back next year stronger than ever.
A huge thanks to the Jackson County Conservation District for sponsoring them and to Mr. Bartel for all of his hard work coaching and teaching them.