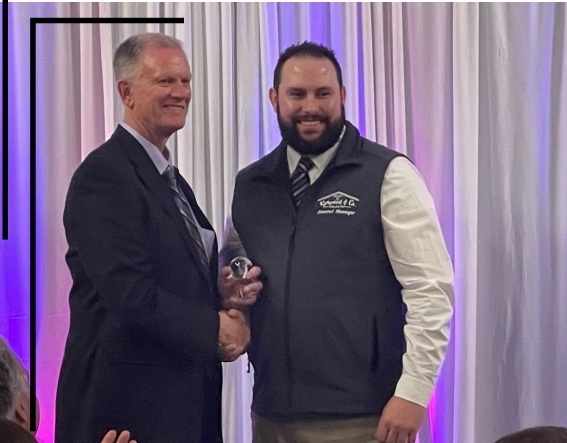 Congratulations Austin Stock on receiving the 2023 Rising Professional Award from Kansas State University, College of Health and Human Science. The Rising Professional Award honors significant contributions made by a graduate in the early stages of their career. Recipients demonstrate significant professional accomplishments in business, human behavior, teaching and health sciences. Since 2019, Austin has been the first and only General Manager at Kirkwood and Co. Table and Tap in Highland, KS.
Earlier this spring, Austin spent time on campus (KSU) interacting with students and faculty, speaking in classes, etc then Austin attended a reception and the awards ceremony. Austin Stock-Troy, KS. Graduated from Troy High School in 2004, attended Highland Community College where he received his associate's degree in art and science. Austin attended K-State where he graduated with bachelor's degree in hospitality management.
His last semester, he interned at Capitol Plaza Hotel in Topeka, KS. and after graduating, he became a full time employee and was promoted to Assistant Banquet Manager. After 2 years at Capitol Plaza, he accepted a position at St. Joseph Country Club, became Front of House Manager for 4 years. Austin then accepted a position at the Carriage Club in Kansas City. In 2017, Austin jumped at the opportunity to co-own and manage the Hoof & Horn Steakhouse in St. Joseph, MO. In 2019, he was offered a General Manager position at a brand new restaurant in Highland, KS. Austin is the son of David & Beth Stock of Troy, KS.