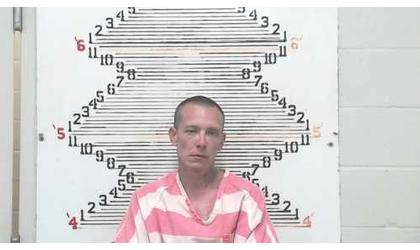 Nicholas Wayne Norton
(KNZA)--An Atchison man is jailed in Brown County, arrested Monday after allegedly fleeing on foot from Horton Police following a short vehicle pursuit.
According to a press release from Horton Police Chief John Calhoon, 39-year-old Nicholas Norton was arrested around 11:30 Monday morning in the area of 105th and Mulberry Roads, just east of Horton, following a five-hour search.
Calhoon said an officer attempted to stop a vehicle driven by Norton for a stop sign violation in the city of Horton around 6:30 and a chase ensued.
Norton fled east on U.S. 73 Highway and then turned north onto Nighthawk Road where he drove into a ditch, and then fled on foot into a heavily wooded area.
An air and ground search was launched by several law enforcement agencies.
Calhoon says several Kansas Highway Patrol troopers were patrolling rural roads in the area when they spotted Norton several miles away in a field. He says Norton again attempted to flee on foot, but was apprehended a short time later by a trooper in a nearby creek as officers began to surround the immediate area.
Norton was booked into the Brown County Jail. He faces numerous traffic related charges---including fleeing or attempting to elude law enforcement, reckless driving and driving while licensed canceled, suspended or revoked. In addition, Calhoon said Norton was arrested on a warrant out of Atchison County and is believed to be on parole out of the state of Missouri.