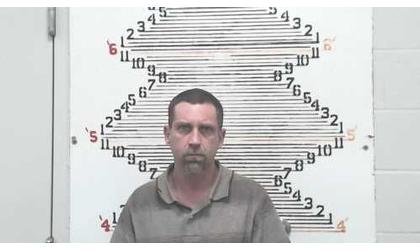 Arthur Hampton
(KNZA)--The Brown County Sheriff's Office is seeking the public's assistance in locating a St. Joseph, Missouri man wanted on an outstanding warrant, who evaded authorities twice in the same day.
Sheriff John Merchant says the sheriff's office received a report Friday of a wreck in the vicinity of 320th and Hazelnut Roads. Upon arrival, it was learned that an individual gave chase to 43-year-old Arthur Hampton who has a $10,000 Brown County warrant for interference with a law enforcement officer. Their vehicles collided and Hampton fled on foot into a cornfield.
Tracking canines from the Kansas Highway Patrol and Kansas Department of Wildlife and Parks were brought in to try and locate Hampton. Also a KHP airplane was brought in to assist in the search due to the hot weather and number of cornfields in the area.
The search was discontinued after about 3 to 4 hours.
Later in the evening, Hampton was spotted by a resident, but authorities were unable to locate him after another 3 to 4 hour search.
No injuries were reported and the case remains under investigation.
Merchant says Hampton has a criminal history that includes probation violation, failure to appear and eluding law enforcement.
Hampton remains at large and anyone with information on his whereabouts is urged to contact the Brown County Sheriff's Office.