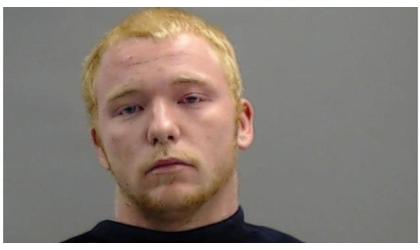 John Detimore
(KMZA)---The second suspect in a string of local vehicle thefts is in custody, arrested following a high-speed chase in western Iowa during which shots were allegedly fired at the pursuing deputy.
18-year-old John Detimore, of Burlingame, Kansas, along with 25-year-old Brandon King, of Scranton, Kansas, were arrested early Thursday morning following the chase on Interstate-80 after the two men allegedly stole a car from a truck stop in Shelby, Iowa.
Both men fled on foot after authorities stopped them with a pit maneuver. King, the driver of the vehicle, was arrested a short distance away. Detimore allegedly stole a nearby pickup truck but was caught after the pickup got stuck in a cornfield.
Detimore had been at large since eluding authorities following a chase October 4th involving a stolen vehicle that began in Marshall County and ended in Nemaha County.
Detimore fled on foot after crashing a pickup truck allegedly stolen from the Baileyville area near Centralia. A 17-year-old passenger from Topeka was taken into custody at the scene.
Later another pickup truck was reported stolen from Centralia.
Authorities say a handgun that had been in the vehicle at the time of the theft was recovered at the scene in Iowa. Also recovered was the stolen pickup from Centralia.
Detimore is being held without bond in the Pottawatomie County, Iowa Jail on numerous charges including attempted murder, felon in possession of a firearm, possession of a dangerous weapon, interference with official acts and two counts of motor vehicle theft.
King is being held on similar charges except for the murder charge.