Royal Theater reopening advances with purchase
10/17/2017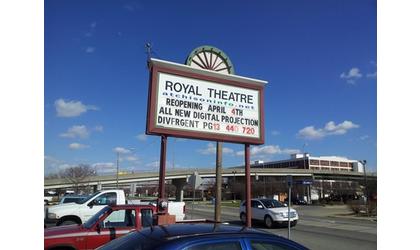 File photo of Atchison's Royal Movie Theatre sign
(KAIR)--Progress continues to be made in the ongoing push to again see a movie theater operating in the City of Atchison.
A major mark in that effort happened October 13 when Theatre Atchison formally acquired the former Royal Theater, that stands on Atchison's Commercial Street, from the former owners, Ken and Anne Nagel.
Theater Atchison Executive Director Travis Grossman told MSC News the purchase advances the Silver Screen Project towards it goal of becoming a reality.
Ken Nagel, in an emailed response to MSC News, said, "In 1992 a group of civic minded community leaders were determined to bring movies back to Atchison when they saw the old Fox theatre stand empty. Through the wide support of the community we opened the doors to the Royal Theatre. For 22 years the people of Atchison continued to support the Royal Theatre. When life took my family and I in a new direction, we closed the doors always remembering how thankful we were and are to the people of Atchison for their support over the years. Now it is time for those doors to open again. There is no one in a better position to renovate the theatre than Theatre Atchison. The quality of their people, their organization and the fact that they are a nonprofit put them in a great position to ensure that movies will be shown in Atchison for years to come. I couldn't be happier that they are taking on the responsibility of respecting the past while moving forward to a great future."
To hear the full interview with Grossman, who describes the details of the purchase, while outlining the future of the Silver Screen Project, go here.
© Many Signals Communications
You will need to be logged in to leave a comment.
Please Login The posting of advertisements, profanity, or personal attacks is prohibited.
Click here to review our Terms of Use.