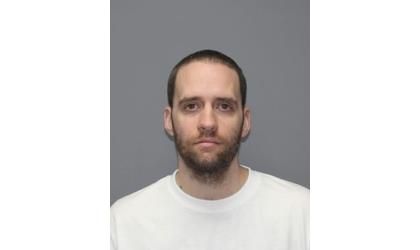 Matthew Shipley
(KNZA)--A Topeka man who had been the subject of a search Thursday has been captured in Nemaha County.
The Jackson County Sheriff's Office had asked the public's assistance Thursday morning in locating 33-year-old Matthew Shipley after he allegedly fled the Jackson County Courthouse in Holton.
Sheriff Tim Morse said Shipley was in the Jackson County District Court when he was searched by a security deputy. The deputy located what was believed to be drug contraband.
Jackson County deputies, Holton Police officers and Kansas Highway Patrol troopers searched several locations in an around Holton.
Morse said the Sheriff's Office received numerous tips of Shipley's location.
The Sheriff's Office continued their investigation, which led them to Baileyville. Morse said Shipley had received a ride to that area early in the day.
Jackson County authorities, Nemaha County deputies and KHP troopers surrounded a farmstead south of Baileyville in the 1700 block of E. Road. Shipley fled into a field and later surrendered to law enforcement.
Shipley was transported to the Jackson County Jail, where he is being held on felony interference with law enforcement and an outstanding warrant from the Kansas Department of Corrections.