Earhart receives Barbie treatment
03/06/2018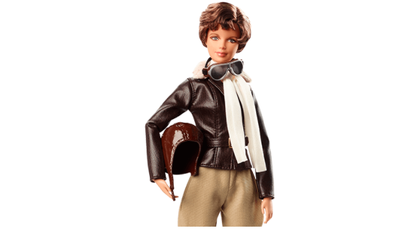 Credit: Mattel
(KAIR)--Atchison's famous daughter is getting the Barbie treatment.
According to a press release from toy manufacturer Mattel, Amelia Earhart is included as part of the company's new "Inspiring Women" series, with the famed aviator to be represented as a Barbie doll.
According to a picture accompanying the release, the Earhart doll is dressed in a leather flight jacket and holding a leather flight helmet, with both a pair of goggles and a white scarf around her neck.
According to the press release, Earhart is one of three dolls in the series.
In the news release, Lisa McKnight, the Senior Vice-President and General Manager of Barbie, says announcement of the "Inspiring Women" series is timed with International Women's Day, which will be recognized Thursday.
McKnight says the company is "thrilled to shine a light on real life role models to remind [girls] that they can be anything."
The release does not provide a date for the availability of the new dolls, but says each will come with educational information about the contributions each woman represented made to society and their respective fields.
Earhart, the first woman to fly solo across the Atlantic Ocean, was born in Atchison on July 24, 1897.
Each July, Atchison holds a weekend festival in her honor.
© Many Signals Communicatons
You will need to be logged in to leave a comment.
Please Login The posting of advertisements, profanity, or personal attacks is prohibited.
Click here to review our Terms of Use.