Armed domestic leads to injuries and arrest
03/13/2018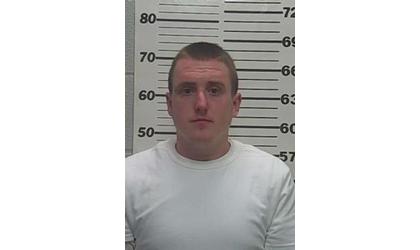 Brandon Ross
(KAIR)--The sound of gunshots leads to a report to Atchison Police, and that ultimately leads to the arrest of a Cummings man related to an alleged domestic incident that sent his victim to the hospital.
Atchison Police Chief Mike Wilson tells MSC News the investigation was launched Saturday night around 11:00 after his officers responded to a residence where the alleged gunshots had been fired. "Officers responded to a shots fired call in the Branchton area," Wilson said. "It was determined that a disturbance had occurred at a residence in the 1500 block of Center Street, and a 19-year-old female had been struck, choked, and threatened with a handgun. Then this 23-year-old suspect left the residence and fired the handgun outside the residence."
Wilson says both the victim, and the suspect, identified as 23-year-old Brandon Ross, had both left the residence by the time police arrived, but she was located a short time later. "We did subsequently locate the victim, and after speaking to [her], she was treated for injuries and released at the hospital."
Ross was located by police Monday morning. Following his arrest, he was booked into the Atchison County Jail, and faces charges including aggravated assault, aggravated domestic battery, and unlawful discharge of a firearm.
Wilson says reports made in connection with the incident indicate that Ross and his victim are married, and did not live at the residence where the alleged domestic incident occurred.
© Many Signals Communicatons
You will need to be logged in to leave a comment.
Please Login The posting of advertisements, profanity, or personal attacks is prohibited.
Click here to review our Terms of Use.