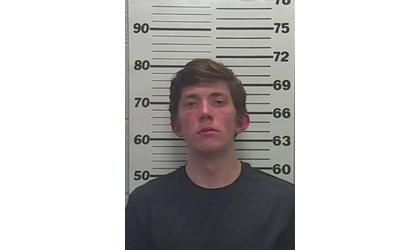 Matthew White/Credit: Atchison Co Sheriff's Office
(KAIR)--A report of trespassing at an Atchison apartment sends a 19-year-old Atchison man to jail on sex charges.
Atchison Police Chief Mike Wilson told MSC News Matthew White was arrested Sunday. "Shortly after 5 p.m. on Sunday afternoon, our officers responded to 103 South 7th, where the subject had unlawfully been on the premises. He'd previously been banned from the apartment complex and was seen in the area with a young female. Officers did locate the 19-year-old suspect several blocks away with a 14-year-old girl."
Wilson said the full details of White's alleged relationship with the girl is not yet known. "They were acquainted, they were together at the apartment complex, and left the apartment complex together, so it's still an active investigation. As far as how long the two had known each other is not yet known, but we do know that they were together as mutual acquaintances on Sunday afternoon."
White was arrested on charges of indecent liberties with a child and criminal trespass.
Wilson said additional charges are possible.
Following his arrest, White was booked into the Atchison County Jail where he's held on a bond of $3,000.