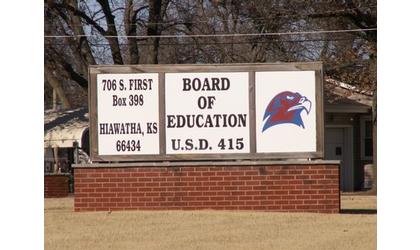 (KNZA)--The Hiawatha school district is looking at adding a school resource officer.
The USD 415 Board of Education Monday evening approved a memorandum of understanding between the school district and city of Hiawatha that would allow a 4-year federal grant to be sought to help fund the position.
If awarded, Hiawatha Police Chief John Defore says the grant would pay 75 percent of the salary and benefits of the officer over a three-year period. The grant requires a 25 percent local match, which would be split between the school district and city.
In the fourth year, the school district and city would have to pay the entire cost, with the school district paying 70 percent and the city 30 percent.
Defore says about 70 percent of the officer's time would be spent working in the school.
He says he feels a school resource officer would bridge the gap between the police department and school, facilitating better communication.
Defore says the school resource officer would take all calls within the district and could teach classes, among other potential duties, which would be at the district's discretion.
USD 415 Superintendent Lonnie Moser says he previously worked in a school district with a school resource officer and feels they are beneficial.
The district last had a school resource officer in the 90's.
If the grant is awarded, the school district would still have the option whether to accept the grant or not.