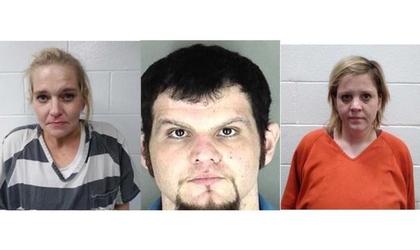 ( L-R )Sehara Hays, Davis Verrette and Kristen Dreher
(KNZA)--Three Topeka residents accused of stealing electronic products from the Holton Wal-Mart store earlier this month are in custody.
Following the report of the June 15 theft, Jackson County Sheriff Tim Morse released photos of the suspects taken at the store, as well as a black Ford car believed to have been used in the theft.
Deputies were able to obtain the tag number on the vehicle and located the car in Topeka on Friday. Deputies identified both of the individuals in the released photos, and a third person was identified as the alleged driver during the theft.
According to a news release from Morse, a deputy observed the car early Saturday morning near Mayetta and initiated a traffic stop.
The driver and owner of the car, 34-year-old Kristen Dreher was arrested for felony obstruction, illegal registration, no proof of insurance and accessory to theft. Dreher had been identified as the alleged driver of the same car during the Wal-Mart theft.
A passenger in her car, 40-year-old Sehara Hays, was arrested for felony obstruction and the theft at Wal-Mart. Hays also had an outstanding warrant for illegal drugs from Reno County, Kansas.
The third suspect, 29-year-old Davis Verrette, was already being held in the Shawnee County Jail on an unrelated theft charge.
Morse says the case is being forwarded to the Jackson County Attorney's Office for prosecution.