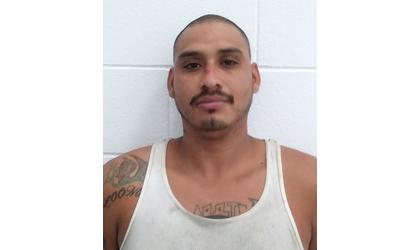 Adrian Ramirez
(KNZA)--A Hiawatha man was arrested early Saturday morning in western Jackson County after wrecking his vehicle, and then allegedly stealing another and crashing it with his 4-year-old child as a passenger.
According to a news release from Jackson County Sheriff Tim Morse, deputies responded to 18251 B Road shortly before 5:00 after receiving a report of a possible injury wreck near a rural residence. The report said there was a vehicle in the ditch with its wheels spinning and another vehicle on fire.
When deputies arrived on scene, 32-year-old Adrian Ramirez was arrested.
Morse says it's believed Ramirez' vehicle caught fire after he wrecked it near the residence. He then allegedly entered a shed and stole a 1997 Chevy pickup truck from the residence which he crashed just past the end of the victim's driveway.
Jackson County fire departments and EMS were dispatched to the scene. The fire departments were able to extinguish the vehicle and a grass fire.
Morse says deputies found Ramirez hiding in the pickup bed with his child. The child was not hurt.
Ramirez was medically evaluated and transported to the Jackson County Jail where he was booked on charges of burglary, felony theft, felony DUI, aggravated child endangerment, driving without an interlock device and failure to report an accident.