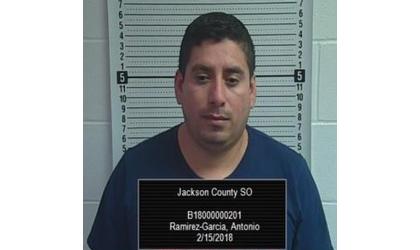 Antonio Ramirez-Garcia
(KNZA)--A plea agreement has been reached in a Holton rape case.
The Holton Recorder reports 38-year-old Antonio Ramirez-Garcia, a resident of southern Mexico, recently pleaded no contest in Jackson County District Court to a charge of aggravated sexual battery.
In exchange for the plea, charges of rape and aggravated criminal sodomy were dismissed.
Sentencing was set for August 10th.
A 3-day jury trial in the case had been set to begin August 1st.
Ramirez-Garcia was initially charged with rape but the two additional charges were added following a March 27th preliminary hearing.
He's was charged with sexually assaulting a former co-worker during a party at a Holton residence early February 10th.
Ramirez-Garcia was arrested five days later after Jackson County deputies located him in Topeka.
He remains in the Jackson County Jail, held on a $100,000 bond.