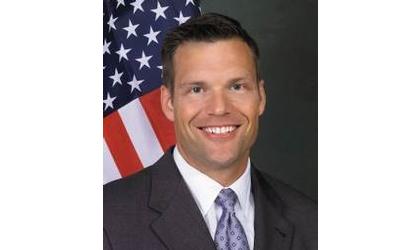 KS Secretary of State Kris Kobach
TOPEKA, Kan. (AP) — Kansas Secretary of State Kris Kobach stepped aside from his duties as the state's top elections official Friday until his hotly contested primary race with Gov. Jeff Colyer is resolved, but rejected Colyer's accusations that the advice he has been giving local election officials on handling ballots violates state law.
Kobach said in a letter to Colyer that he was turning his election duties over to his top deputy. Colyer had demanded in his own letter Thursday to Kobach that the secretary of state stop providing guidance to county officials as they counted late mail-in ballots from Tuesday's Republican primary and prepared to count other ballots next week.
Under state law, mail-in ballots are counted if they were postmarked Tuesday and arrive in county election offices by Friday. The secretary of state's office was updating vote totals as it received new numbers from individual counties.
With 25 of the state's 105 counties reporting, Kobach's lead almost doubled to a still-tiny 241 votes out of more than 311,000 cast. It had been 121 votes after discrepancies were found between results reported by two counties and what Kobach's office posted on its website.