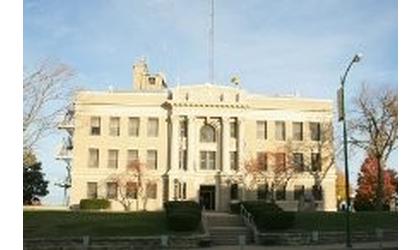 Richardson County Courthouse
(KLZA)--The Richardson County Commission heard a recycling proposal when they met Tuesday.
Nancy Tomek-Wilcher, of Humboldt, met with the Board to discuss the proposal.
Recycling Enterprise of Nebraska has proposed placing collection bins in the city of Humboldt at a cost of $180 per monthly call pickup.
Wilcher said the city requested she present the idea to the County to see if they would assist with the costs since residents outside the city limits of Humboldt would also have access to the bins.
No action was taken by the Board.
In other business, the Commission voted unanimously to access the additional 1-percent budget authority allowed by state statute for the next fiscal year.
Commissioners also met with Sheriff Don Pounds to continue the budget review for the Richardson County Law Enforcement Center.
Pounds also reviewed medical costs involved with inmates and reported he is working with Community Medical Center in Falls City to develop a plan for medical services to inmates when needed.