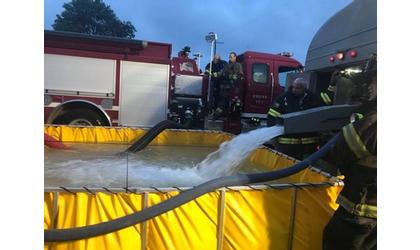 ( submitted by Robinson Fire Dept)
(KNZA)--A grant awarded to the Robinson Fire Department has allowed the department to purchase a new piece of equipment to aid in fighting rural fires.
According to a press release, Brown County farmer Larry Oltjen directed $2,500 to the department as part of the America's Farmers Grow Communities program, sponsored by the Monanto Fund.
Robinson Fire Department Chief Dennis Tietgens says the funds have been used to purchase a two-thousand gallon portable dump tank.
With the purchase of the collapsible dump tank, Tietgens says the fire department was able to replace an aging smaller dump tank.
Dump tanks allow fire departments to have a steady water supply in rural areas when access to a fire hydrant is limited.
Tietgens thanked Oltjen for making the donation possible.
Each year, the America's Farmers Grow Communities program partners with local farmers to provide grants to local non-profits.
Since 2010, the program has given more than $29 million to non-profits across rural America.