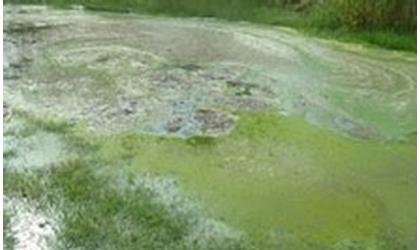 Photo of blue green algae in Kansas courtesy of the KDHE
(KAIR)--If you're heading out for outdoor activities during the Labor Day weekend, remember to steer clear of toxic blue green algae at area lakes.
That message is delivered in a release from the Kansas Department of Health and Environment, in conjunction with the Kansas Department of Wildlife, Parks and Tourism.
One local lake remains under warning status, with the Atchison County Lake continuing to be plagued by the problematic algae.
The public health warning was issued in July.
A total of 15 Kansas lakes remain under warning status.
KDHE says activities such as boating and fishing may be safe. However, direct contact with the water is strongly discouraged for people, pets and livestock.
Fish can be eaten as long as they are rinsed with clean water. However, you should consume only the fillet portion and discard all other parts.
KDHE will continue to monitor the lakes and will provide updates as conditions warrant.