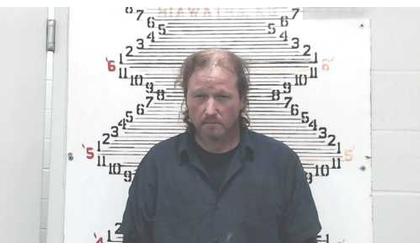 David Seamster/ Photo credit: Brown Co Sheriff's Office
(KNZA)--A Brown County traffic stop leads to the arrest of a Hiawatha man on drug and weapon charges.
Brown County Sheriff John Merchant says 45-year-old David Seamster was arrested Tuesday.
Seamster has been formally charged in Brown County District Court with felony counts of possession of methamphetamine with intent to distribute and possession of methamphetamine.
In addition, he has been charged with misdemeanor counts of criminal use of a weapon and transporting an open container.
According to the criminal complaint, Seamster was allegedly in possession of metal knuckles and at least 3.5 grams but less than 100 grams of methamphetamine.
A preliminary hearing in the case has been set for October 17.
Seamster is currently free on bond after it was modified from $7,500 to $2,500.