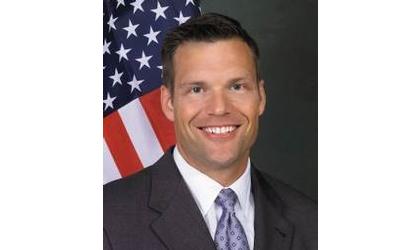 Kris Kobach
TOPEKA, Kan. (AP) — Republican gubernatorial candidate Kris Kobach promised Wednesday to push for tougher work requirements for welfare and state health coverage recipients in Kansas, building on existing policies that have populist appeal but draw criticism as punitive toward the poor.
Kobach outlined a plan to increase work requirements for able-bodied adults receiving food stamps and cash assistance. It would impose a work requirement — and drug testing — for the state's Medicaid program, which provides health coverage to the needy.
The GOP-controlled Legislature enacted work requirements and tougher rules for food stamps and cash assistance in 2015 and 2016 at former Republican Gov. Sam Brownback's urging. Like him, Kobach argues that such requirements encourage people to work and increase the number moving from government assistance to employment.
Kobach is challenged in his run for Kansas Governor by Democrat Laura Kelly, Independent Greg Orman, and Libertarian Jeff Caldwell.
Among Kobach's campaign stops Wednesday was an early afternoon visit to Atchison.