Atchison students to weigh-in on skatepark
01/15/2019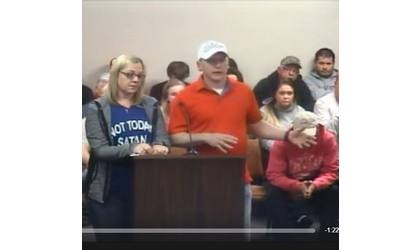 Pam Cline (left) and Jeremy Watkins (right) present plans for a skateboard park to the Atchison City Commission April 16, 2018/Credit: Facebook
(KAIR)--Planning for Atchison's future skatepark continues, with organizers this week to take the issue directly to local youth.
Atchison residents Jeremy Watkins and Pamela Cline have been working with the City of Atchison, and skatepark developers, to make the park a reality.
The couple is operating through the Skate High With Hope-Joshua Kinsman Foundation, named in honor of Cline's son who died in January, 2018 at the age of 17.
Watkins tells MSC News design plans for the park will be brought before students at the Atchison Middle School Thursday, with input from the students to be used in selecting the final design. "It'll be during their lunch hour, anytime between the hours of 11 a.m. to 1 p.m., Watkins told MSC News. "What Pam and I have in mind is, we're going to set up a little display of what [style of skateparks] we kind of have in mind, to give the kids the ability to come up and visit, get their opinions. [The students will] give us ideas on what they would like to see, make some changes or improvements."
The park will be constructed on green space located in Atchison's Reisner Park, located at North 10th and Kearney Streets.
A community meeting focused on the design plan of the park is also set for this month.
According to Cline, that is scheduled for the evening of Wednesday, January 23, at 7:00.
The session will be held at Atchison City Hall.
© Many Signals Communications
You will need to be logged in to leave a comment.
Please Login The posting of advertisements, profanity, or personal attacks is prohibited.
Click here to review our Terms of Use.