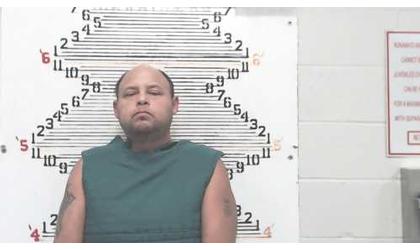 Anthony Walker/Credit: Brown Co Sheriff's Office
(KNZA)--A jury trial has been set for a rural Horton man accused of shooting at law enforcement officers during a 10-hour standoff on the Kickapoo Reservation in November.
54-year-old Anthony Walker pleaded not guilty Monday in Brown County District Court to all 12 counts against him.
A 3-day trail was set, beginning August 7.
The standoff began the evening of November 27 after Kickapoo Tribal Police were called to a residence in the 12-hundred block of Fern Road for a domestic disturbance.
Multiple agencies responded after Walker, allegedly armed with an AK-47, began shooting at officers.
Walker surrendered peacefully the following morning after a tactical team from the Kansas Highway Patrol entered the home.
A woman in the home, who allegedly was being held against her will, was able to escape without injury before the standoff ended and no officers were hurt.
Walker remains free on a $10,000 bond, which was reduced from $500,000 last month after a judge granted a motion for a bond modification over the objections of County Attorney Kevin Hill.