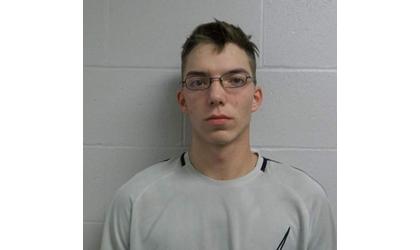 Brandon Ogden/Credit: Nemaha Co Sheriff's Office
(KMZA)---A Seneca man, accused of rape and other child-related sex crimes, waived his preliminary hearing Monday.
The Nemaha County Attorney's Office said 21-year-old Brandon Ogden was bound over to Nemaha County District Court for arraignment on June 27.
Ogden faces charge of rape, aggravated indecent liberties with a child and aggravated sodomy.
The criminal complaint alleges that on August 26 of last year, Ogden engaged in sexual intercourse, lewd fondling or touching and sodomy with a child under 14.
He was arrested the same day following a joint investigation by the Seneca Police Department and Nemaha County Sheriff's Office.
Ogden remains in the Nemaha County Jail, held on a one million dollar bond.