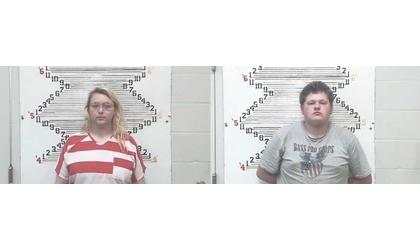 Breanna Alstatt & Joshua Larkin/ Credit: Brown Co Sheriff's Office
(KNZA)--Two individuals have been charged in connection with the burglary of a city-owned building at Horton's Mission Lake.
23-year-old Joshua Larkin, of Tribune, and 19-year-old Breanna Alstatt, of Marquette, made their first appearance in Brown County District Court Monday on charges of burglary and misdemeanor theft.
A July 3rd preliminary hearing was set for each.
The pair were arrested early Saturday morning by the Horton Police Department.
According to the criminal complaint, Larkin and Alstaff are accused of breaking into the Mission Lake Caretaker's Shop. Taken was $487 in cash and/or checks.
As of Tuesday morning, Alstaff remained in the Brown County Jail on a $5,000 bond. Larkin is currently free after posting a $5,000 bond Monday.