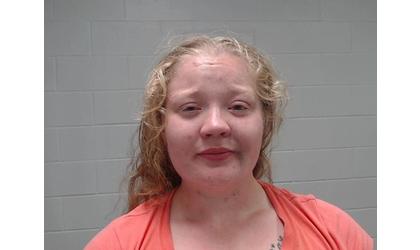 Felieca Paxton/Credit: Atchison Co Sheriff's Office
(KAIR)--An Atchison woman is facing charges after she allegedly intentionally hit a man with her vehicle.
Atchison Police Chief Mike Wilson, in a release, said 23-year-old Felieca Paxton was arrested Monday.
According to Wilson, Paxton's arrest follows a report made to police by a 31-year-old man, who said he was walking in the area of 12th and Laramie Sunday night when Paxton struck him with her vehicle. The attack allegedly occurred shortly before 11:00.
According to Wilson, Paxton and the man knew each other prior to the alleged vehicular attack.
The man did not require hospital treatment.
Wilson said police began an investigation after receiving the report, but were not immediately able to locate Paxton Sunday night. Instead, she was found Monday evening and taken into custody.
Paxton now faces a charge of aggravated battery.
Following her arrest, Paxton was booked into the Atchison County Jail.
According to jail records, she was held on no bond as of Tuesday morning.