New Atchison Trail Opens With Ceremony
09/11/2017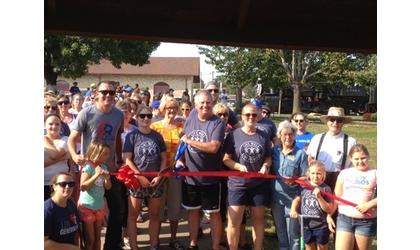 (KAIR)--A crowd of around 100 gathered at the Atchison Santa Fe Depot Sunday afternoon, as a ribbon cutting was held for the official opening of the South Atchison Walking and Biking Trail.
Among the featured guests of the day was Atchison Mayor Allen Reavis.
He addressed the crowd, thanking the community partners who helped make the trail a reality. "The total amount the City actually spent on this is going to end up being a little bit under $125,000. The other money came, $1.2 million from KDOT, $55,000 from the Sunflower Foundation, $25,000 from Westar, and $15,000 from Live Well. Blue Cross Blue Shield gave us $25,000 with the Pathways grant."
Also in attendance was Andrea Clements, the Director of Live Well, Live Atchison, the organization that works to see an increase in local, healthy attitudes. "It's a visible indicator that our citizes in Atchison County, and the City of Atchison, are committed to healthier living, a healthier lifestyle, for themselves now and for generations to come."
Once the formalities were complete, and the ribbon cut, residents of Atchison began to officially use the trail, with walkers and bicyclists both seen utilizing the new attraction.
Construction of the near mile and a-half long trail trail began in late February.
It stretches from the intersection of U.S. Highway's 59 and 73 to Raven Hill Road, near the Atchison Hospital.
© Many Signals Communications
You will need to be logged in to leave a comment.
Please Login The posting of advertisements, profanity, or personal attacks is prohibited.
Click here to review our Terms of Use.