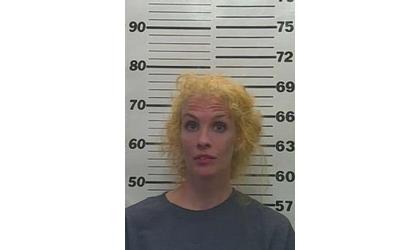 Rebekah Green/Credit: Atchison Co Sheriff's Office
(KAIR)--An Atchison woman goes to jail, accused of attacking both someone offering assistance and police officers.
Atchison Police Chief Mike Wilson tells MSC News it's alleged that 36-year-old Rebekah Green attacked a resident who attempted to assist Green when it appeared she was in need of help. "It was around 6:30 p.m. Saturday when officers responded to the 900 block of South 5th where a 22-year-old female reported being punched by a suspect who had been passing by in the area. [The victim] had tried to help as the suspect had appeared to have fallen down, and, at that point, was struck by the suspect."
Wilson says Green is alleged to have fought with officers as they responded to assist. "As officers arrived at the scene and confronted the suspect, who was in the area, she kicked and spit on the officers as she was taken under arrest."
Green was arrested for battery and battery on a law enforcement officer.
Following her arrest, she was booked into the Atchison County Jail, with bond set at $2,500.
Green, in April, was sentenced to one year of probation in connection with crimes committed in July of last year.
She was accused of abducting a child from an Atchison neighborhood.
Ultimately, she was sentenced to the probation term and required to be evaluated, and treated, for substance and mental health issues.