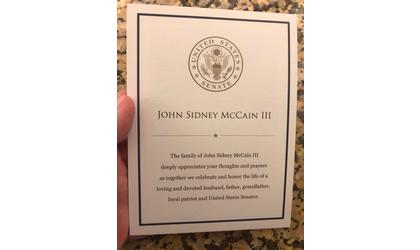 Former Atchison resident Chris Suther holds the program that accompanied the Arizona memorial for Senator John McCain.
(KAIR)--In a matter of coincidental timing, a former Atchison resident attends the Arizona memorial for Senator John McCain.
When it was held Wednesday at the State Capital in Phoenix, Chris Suther was in attendance. "It just so happened that I had a work trip that was already planned down in Phoenix, and with me being down here I had the evening off. I just had the opportunity to drive down and walk through the memorial."
Suther, in a telephone interview Thursday, told MSC News he was pleased to have a chance to take part, first hand, in witnessing history. "I was excited about the opportunity to go to an event like that, which of course you typically can't plan for something like that. It just happened to be that the stars aligned and I was able to go to it. I guess to me it wasn't necessarily paying respects, it was more along the lines of witnessing history."
Suther is a 1996 graduate of Atchison's Maur Hill-Mount Academy.
Memorial services were held for McCain Wednesday and Thursday in Phoenix.
According to the Associated Press, McCain's casket Friday arrived in Washington D.C. for an additional memorial.
On Saturday, following a stop at the Vietnam Memorial, the procession for McCain will move to Washington's National Cathedral for a formal funeral service.
McCain served as United States Senator from Arizona from 1987 until his August 25 death.