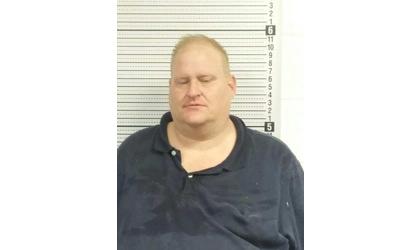 Derrick Bohnenkemper/Credit: Jackson Co Sheriff's Office
(KAIR)--Formal charges are filed against the Holton man accused of shooting his father and then engaging Jackson County authorities in a several hour standoff Tuesday.
Jackson County Sheriff Tim Morse, in a news release, said 49-year-old Derrick Bohnenkemper is charged with murder in the 1st degree, aggravated assault, and five counts of aggravated assault on law enforcement officers.
During the standoff, that happened a residence north of Holton, it's alleged that Bohnenkemper fired a shotgun at deputies after they launched tear gas into the residence.
No one was hurt by the gunfire.
The deputies made that move after Bohnenkemper refused to surrender, despite a several hour phone conversation with Morse.
He remains in custody at the Jackson County Jail, held on a bond of $250,000.
Sheriff's Deputies responded to 26985 Q. 4 Road around 3:00 Tuesday morning after a woman reported that her son had shot his father in the head.
Killed was 73-year-old Gaylen Bohnenkemper, of Holton.
His body was discovered inside the home by deputies after Derrick Bohnenkemper surrendered around 8:30 Tuesday morning.