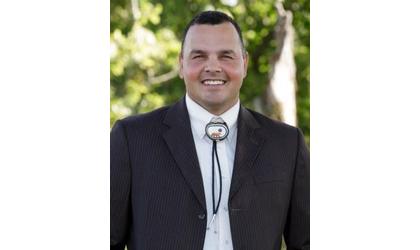 Kickapoo Tribal Chairman Lester Randall
(KAIR)--An effort to recall the Kickapoo Tribal Chairman advances, with a formal request now made to the Kickapoo Tribal Council for a meeting to address allegations against him and for a vote on his removal.
That word comes in a press release issued Monday evening by the Kickapoo Tribe, which calls the latest step to remove Lester Randall from his role as Tribal Chairman part of "a 5-month recall effort."
The formal request follows the submission of a letter to the Tribal Council January 3, bearing 434 tribal member signatures, or 31.8% of qualified voters.
The press release notes that the Kickapoo Constitution and Bylaws requires the signatures of 30% of voters.
Those signatures were gathered, the release notes, under new rules approved late last year requiring the address of signees.
According to the release, that revision of the requirements came after a Tribal member in October requested an account of the exact number of qualified voters with the Tribe.
Now, with the paperwork in place, the next step in the process involves the Kickapoo Tribal Council scheduling a meeting of the Kickapoo members where Randall "will be provided an opportunity to speak in his own defense."
The release notes that the session would then allow those in attendance to vote on whether Randall should be removed from his role of leadership.
According to the release, the letter submitted this month to the Council alleges misconduct, violation of the Kickapoo Revenue Allocation Ordinance, and Interference with the Kickapoo Tribal Police on the part of Randall.
Randall did not immediately respond to a request for comment made by MSC News late Tuesday morning.