Doniphan Co Commission reorganizes
01/17/2019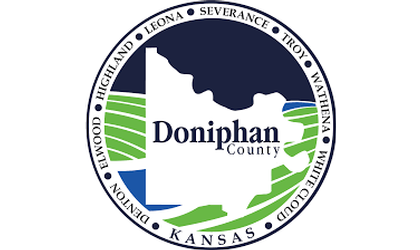 (KNZA)--The Doniphan County Commission has reorganized for the new year.
That came Monday during the Commission's regular meeting.
2nd District Commissioner Tad Geiger was unanimously re-appointed as commission chairman for 2019.
Sheryl Pierce was re-appointed as Health Department/Home Health Administrator.
The Commission approved the re-appointment of Francis Hubbard as county Noxious Weed Director and Julie Meng as the Hazardous Materials and ADA Coordinator.
Dr. Bradley Gaul was appointed as County Health Officer.
The Commission approved the slate of fire district board members and ambulance director for 2019 as presented. ( posted below)
Fire #1 – Wathena Mayor John A. Cluck; President of Council: Mark Morgan
Township Trustees: Washington – Richard Schuman
Burr Oak- Milton Hartman Jr
Marion – Nancy D. Drake
Fire Chief Robert Ryser
Fire #2 – Highland Eric Tracy, Chairman; Josh Falk, Treasurer, Dean Diveley, Secretary. Additional Board Members Joyce Rush and Chris Waggoner. Ambulance Director: Ken Stewart Fire Chief: Joe Florence
Fire #3 – Bendena Robert Hoffman, Chairman; Tyson Rush, Secretary/Treasurer, Fire Chief Steven Davis
Fire #4 – Elwood Darrell Lamme, Chairman; Lonnie Young, Secretary; Bobby Hall, Treasurer. Fire Chief Alvin Wood
Fire #5 – Troy Derek Luedke, John Mike Simpson, Jonathan Huss, Jim Norris, Matt McKittrick. Fire Chief Allen Winkel
The Kansas Chief was designated as the official county newspaper for legal publications.
The meeting began with County Clerk Peggy Franken administering the oath of office to 1st District Commissioner Tim Collins, who was re-elected to another 4-year term in November.
© Many Signals Communications
You will need to be logged in to leave a comment.
Please Login The posting of advertisements, profanity, or personal attacks is prohibited.
Click here to review our Terms of Use.