Knife threat leads to arrest
02/06/2019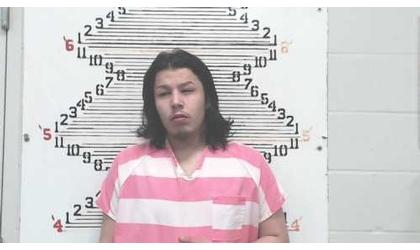 Cyrus Conklin
(KAIR)--A Horton man is facing charges after allegedly threatening his father with a knife.
"An altercation started between a father and son," Horton Police Chief John Calhoon told MSC News. "The son began throwing items at his father, and ultimately pulled out a couple of knives, in an angry and rude manner, threatening his father. The father was able to get away."
Calhoon said 21-year-old Cyrus Conklin was arrested Sunday morning. "At approximately 10:00, officers were approached by a citizen, during their patrol. [The citizen] basically said they had been assaulted by a family member. [That] ultimately led to the arrest of Cyrus Conklin in the 200 block of West 9th."
Conklin was formally charged Monday with felony counts of aggravated assault and interference with law enforcement along with misdemeanor counts of domestic battery and criminal damage to property.
A preliminary hearing in the case has been set for February 13.
Conklin remains in the Brown County Jail in lieu of a $5,000 cash or surety bond
© Many Signals Communications
You will need to be logged in to leave a comment.
Please Login The posting of advertisements, profanity, or personal attacks is prohibited.
Click here to review our Terms of Use.