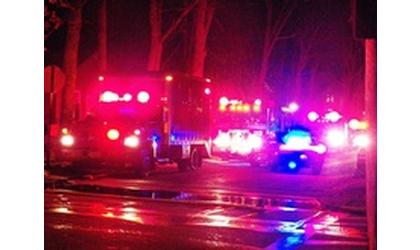 (KAIR)--A teenager required hospital transport following a two vehicle, late Friday afternoon Atchison wreck.
According to a report from Atchison Police Chief Mike Wilson, it happened at 14th and Kansas Avenue when vehicles driven by Robert Daniels, Jr., of Lansing, and Arianna Olson, of Atchison, collided.
Daniels was southbound on 14th Street, while Olson was eastbound on Kansas Avenue, at the time of the wreck.
Wilson said a 14-year-old girl was a passenger in the vehicle driven by Olson, and was transported by Atchison County EMS for examination at the Atchison Hospital.
Wilson said Daniels was cited for failure to yield the right of way.
Everyone was wearing a seatbelt when the crash happened around 4:40 Friday afternoon.
The teen's injuries were reported as minor.
Meanwhile, a series of wrecks Sunday in Atchison County, blamed on slick road conditions, caused no serious injuries.
According to a report issued by Atchison County Sheriff Jack Laurie, the wrecks happened in areas of the county at times varying from early morning to early evening.
Although two of the four wrecks required EMS evaluation at the scene, Laurie said no one was transported for hospitalized treatment.