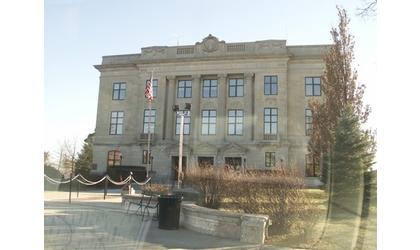 Brown County Courthouse
(KNZA)--The Brown County Commission Monday was asked to form a cemetery district by resolution that would allow for a tax levy to provide funding for the upkeep of four local cemeteries.
John Howard, speaking on behalf of a joint cemetery committee, made the request.
Howard said the cemetery district, which would have its own taxing authority, would consist of the city of Hiawatha and Hiawatha Township.
He said the district would provide funding for the upkeep and maintenance of the Hiawatha Cemetery, Mount Hope Cemetery, Brown County Poor Farm Cemetery and an unnamed cemetery located west of the intersection of 260th and Kestrel Roads.
"The two cemeteries in Hiawatha combined cover 46 acres. Maintaining a cemetery is extremely difficult, if not impossible, without a means of perpetual funding. Doing it by resolution makes it an easier way to create a district."
A cemetery district can be formed two ways—by petition or by resolution. Howard said approval by resolution would allow for an appeal process.
The four cemeteries are currently the only cemeteries in the county not receiving tax support.
If approved, Howard said the cemetery district would be funded by maximum 2 mill property tax levy. "Two mills in the district would equate to $26 per $100,000 of valuation. That would raise approximately...given the current valuation...$72,000."
The Commission received letters of support for the creation of the cemetery district from a number of local organizations and the city of Hiawatha.
Following discussion later in the meeting, it was the consensus of the Commission to have County Attorney Kevin Hill prepare a resolution for consideration and possible approval at their April 1 meeting.