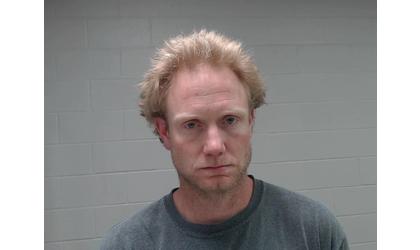 Andrew Vandruff/photo credit: Atchison Co Sheriff's Office
(KAIR)--A Rushville, Missouri man is accused of attempting to steal scrap metal from property located in rural Atchison County, and when caught, authorities say he tried to camouflage himself.
Atchison County Sheriff Jack Laurie told MSC News his office was alerted to the alleged theft in progress shortly before 10:00 Wednesday morning at property located in the 15000 block of 318th Road. "We received a phone call from the landowner who had seen a vehicle parked out there and also saw the subject run when he was getting closer."
Laurie said the suspect, identified as 37-year-old Andrew Vandruff, fled from the scene on foot, making his way to a farm pond in his alleged attempt to hide from deputies. "They did have a little bit of trouble finding him at first, but they were able to locate him. He tried to hide himself in some mud, near the pond."
Once located, Vandruff was arrested on charges of burglary and attempted theft.
He was booked into the Atchison County Jail, with his bond set at $2,500.