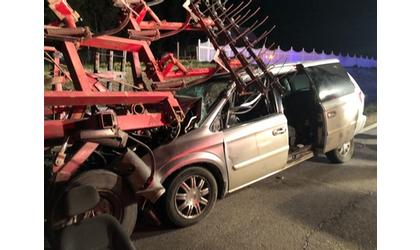 Photo credit: Jackson Co Sheriff's Office
(KNZA)--Two Corning residents were injured late Saturday night, including one critically, in a Jackson County wreck involving a mini-van and tractor pulling a farm implement.
Jackson County Sheriff Tim Morse says the wreck was reported shortly before 10:30 on K-16 Highway, east of B. Road, a little more than a mile from the Pottawatomie County Line.
Morse says the Town and Country Chrysler mini-van was westbound when it struck the rear of the westbound farm tractor.
Two of the three individuals in the mini-van were injured.
Morse says the driver was transported by Life Star Air Ambulance to Topeka's Stormont-Vail Hospital with life threatening injuries, while the front seat passenger was transported to the hospital by Jackson County EMS.
The names of those involved were not immediately released
The Soldier and Holton Fire Departments, along with Jackson County EMS responded to the scene.
The wreck remains under investigation by the Jackson County Sheriff's Office.