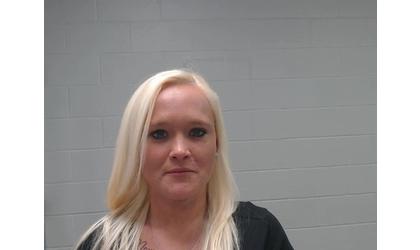 Crystalynn Newson/Credit: Atchison Co Sheriff's Office
A change in policy at the Atchison County Jail, following what Atchison County Sheriff Jack Laurie says was a plot to smuggle contraband to an inmate.
The alleged plot led to the arrest of 28-year-old Crystalynn Newson for trafficking contraband into a correctional facility.
She was taken into custody Monday on an Atchison County District Court Warrant. Laurie told MSC News the warrant was issued for her arrest after investigators found that she allegedly provided tobacco products to inmate Devan Newson in the basement bathroom of the Atchison County Courthouse. "It could have been anything, that's the worst part about it. You have to take those measures and hopefully don't have those issues again," Laurie said.
The alleged restroom meetup occurred March 18 when Devan Newson was scheduled for a court appearance.
Requesting to use the restroom as he was transported to court from the jail, it's believed the two had previously planned to meet inside.
Laurie said despite a brief search of the restroom, jail staff did not notice Crystalynn Newson hiding inside, and due to the breach, inmates will now be required to use jail restroom facilities only. "It's best that we take the highest precautionary measures we can to make sure it doesn't happen again. We feel that being that the Courthouse isn't necessarily a secured environment, we think it's the best an inmate go back to the jail to use the facilities when needed."
Following her arrest, Newson was booked into the Atchison County Jail.
She was released on a cash surety bond of $15,000.