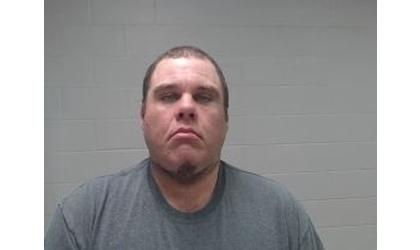 Thomas Lackey/photo credit: Atchison Co Sheriff's Office
(KAIR)--Two Atchison men were arrested Thursday on drug charges stemming from separate incidents.
According to a report issued by Atchison County Sheriff Jack Laurie, one of the two men arrested was 36-year-old Thomas Lackey. Lackey was arrested on a warrant for Possession of Methamphetamine and Possession of Drug Paraphernalia.
The report states that the warrant was obtained following an April 3rd incident, where deputies allegedly encountered Lackey in possession of methamphetamine. Lackey was not taken into custody that day due to what the report says were unrelated circumstances.
At the time of his arrest on Thursday, the report alleges that Lackey was again found to be in possession of methamphetamine and drug paraphernalia. He was booked into the Atchison County jail for the warrant stemming from the early April incident, as well as the new charges for methamphetamine possession.
As of Friday (5/10) morning, Lackey remained in the Atchison County Jail with a bond set at 10-thousand dollars.
Also arrested on Thursday was 27-year-old Brock Wagner. Wagner was arrested on a warrant charging him with Possession of Marijuana and Possession of Drug Paraphernalia.
According to the report, a warrant was obtained for Wagner following an incident in May of last year, where probation officers requested sheriff's office assistance in searching Wagner's residence in Atchison County. During the search, suspected marijuana and drug paraphernalia was located. Those items were sent to the KBI lab for testing prior to obtaining the warrant.