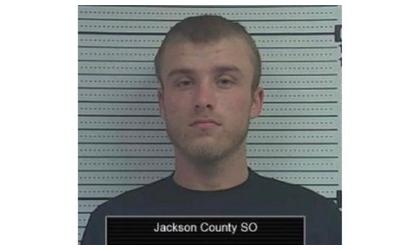 Colton Merriman/photo credit: Jackson Co Sheriff's Office
(KNZA)--A Horton man is accused of stealing a four-wheeler after getting his vehicle struck on a Jackson County minimum maintenance road.
Jackson County Sheriff Tim Morse says it happened Friday night.
Morse says the Sheriff's Office received a report around 8:30 of a stolen Polaris four-wheeler from an outbuilding at 6656 278th Road.
Then about an hour later, a deputy along with Morse located the stolen four-wheeler on a section of N. Road, just north of 310th Road.
Morse says the suspect, identified as 22-year-old Colten Taft Merriman, had returned to the location in an attempt to get a vehicle he allegedly had been driving unstuck.
He says Merriman allegedly gave the deputy a false name and was found to be in possession of what is believed to be methamphetamine and drug paraphernalia.
Merriman was booked into the Jackson County Jail on charges of burglary, possession of meth, possession of drug paraphernalia, felony theft, no insurance, illegal tag and illegal use of a minimum maintenance road.