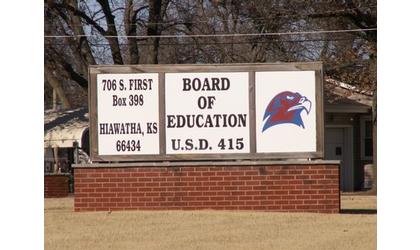 (KNZA)--New lighting is coming to the stage of the Hiawatha High School auditorium.
After hearing presentations from two companies, the USD 415 Board of Education this week voted to approve a bid from Associated Theatrical Company for up to $107,236.
Included is around $5,600 for installation services, which will be at the discretion of District Maintenance Supervisor Matt Cluck. The bid includes 60 fixtures and a console.
The bid from the other company, BA Supply, was around $50,000 higher and would take about four times as long to deliver. It included 70 fixtures and a console.
Funding for the project will come from the Sandzen fund.
In other business, the Board approved a bid from Heartland Seating Company for new bleachers at the Hiawatha Middle School in the amount $74,704.
It was noted the hardware on the current bleachers is failing and design is obsolete.
The Board also approved the purchase 30 laptops for high school teachers and 150 iPads for 1st and 2nd grade students in the total amount of $64,140.
The Board gave Hiawatha Middle School Athletic Director Ben Kettler approval to hire a third middle school volleyball coach and an additional middle school cross country coach if numbers merit.
Following an executive session, the Board filled several open positions for next school year.
The Board approved the hiring of Ashlyn Riley for 2nd grade, Hannah Cole for 3rd grade, Danielle Dasht for 5th grade, Diana Bray for 6th grade, Halee Andrushchenko for high school English, Michael Downard as head high school football coach, Nick Haedt for middle school assistant football coach, and Sara Woods as play/musical sponsor