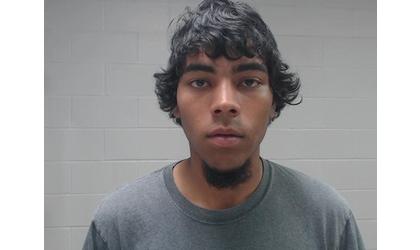 Taggart Lee/Credit: Atchison Co Sheriff's Office
(KAIR)--An Atchison man is facing charges after allegedly using a BB gun to damage vehicles and at least one home.
Atchison Police Chief Mike Wilson, in a release, said 18-year-old Taggart Lee was arrested around 10:30 Wednesday night following a short search by police.
The investigation began after officers responded to the 400 block of River Road around 9:45 Wednesday night. They were called after it was reported that several vehicles had sustained windshield damage after a BB gun was fired from a passing truck.
A short time later, officers were called to the 800 block of Washington Street after it was reported that siding on a residence had been damaged after it was shot by a BB.
According to Wilson, a 20-year-old man, who was in the house, came outside and was struck in the leg by a BB. He was not injured.
About 20 minutes after the residence was hit, an officer spotted the suspect pickup truck on Atchison's Woodlawn Avenue.
The officer stopped the truck, and the driver, identified as Lee, was arrested in connection with the shooting spree.
Lee was taken into custody on charges of criminal damage to property and aggravated battery.
Following his arrest, Lee was booked into the Atchison County Jail.