Boil water advisories remain in Jefferson County
05/20/2019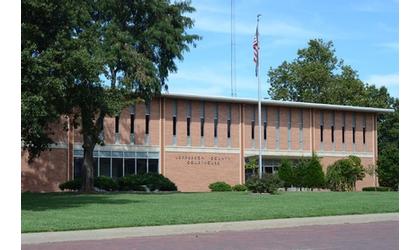 The Jefferson County, KS Courthouse/Credit: Facebook
(KAIR)--Three boil water advisories remain in place in Jefferson County.
The latest, issued Monday, is for the Lakeside Village Improvement District, following what the Kansas Department of Health and Environment said was well flooding.
That same issue led to advisories being issued earlier this month for the City of Ozawkie and the Lakeshore Estates community.
According to KDHE, well flooding results in high turbidity and a loss of pressure in the system, which may result in a loss of chlorine residuals and bacterial contamination.
All three advisories will remain in place until further notice.
The issue was addressed during Monday's meeting of the Jefferson County Commission.
During the session, EMS Director James Tweed addressed to the Commission weather and flood related concerns, including the affects leading to the boil water advisories.
According to the unofficial minutes of the meeting, Tweed told the Commission that the dam was, as of Monday, seven feet below flood stage, and informed them the Corps of Engineers expects a possible emergency release of water in two weeks.
Those who are affected by the boil water advisories are told to boil all water to be consumed for one minute prior to use.
© Many Signals Communications
You will need to be logged in to leave a comment.
Please Login The posting of advertisements, profanity, or personal attacks is prohibited.
Click here to review our Terms of Use.