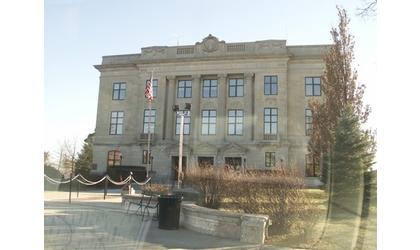 Brown County Courthouse
(KNZA)--Brown County will seek federal funding assistance for two streambank stabilization projects due to heavy rains and flooding this spring.
The County Commission voted Monday to seek funding through the Natural Resources Conservation Service's Emergency Watershed Protection Program.
Funding through the program would pay for 75 percent of the construction costs. The county would be required to provide a 25 percent match, which can be cash or in-kind services.
One project is located on 290th Road along the Laus Creek Tributary. The estimated cost for the project is nearly $107,000, with the county's share estimated at nearly $34,000.
The second project is located on Prairie Road along Pony Creek. The estimated cost of the project is $27,500, with the county share estimated at $8,500.
NRCS Supervisory District Conservationist Matt Sprick said engineers with the NRCS reviewed four flood damaged sites in June and determined three of the sites to be eligible for funding through the program.
The two projects selected by the Commission for funding assistance must be completed within 220 days after the NRCS funding is received.