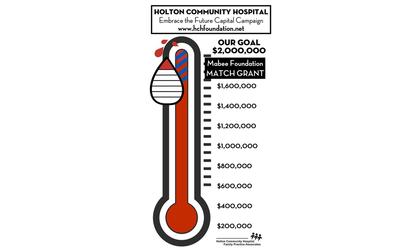 Credit:Facebook
(KNZA)--The Holton Community Hospital has reached a major fund-raising goal in its campaign to raise funds for a $14.6 million expansion and renovation project.
In a post on the hospital's Facebook page, hospital officials announced that the "Embrace the Future" capital campaign surpassed its $1.6 million goal last week. That's the amount needed to receive a $400,000 " challenge grant" from the J.E. and L.E. Mabee Foundation, of Tulsa Oklahoma.
That puts the fund-raising total in pledges and contributions at $2 million—a goal established by the hospital to meet a USDA Rural Development requirement for a $14.6 million loan to cover a majority of the expansion project's costs.
Hospital officials also announced that the hospital has reached the $1 million threshold of cash in the bank needed to help secure the interim financing required for the USDA loan.
Funds raising efforts will continue. Hospital officials says pledges and contributions received will now help with equipment, building needs and the Holton Community Hospital Foundation's general fund.
Hospital CEO Carrie Saia says construction plans are still being finalized. She said the hospital is still hoping to break ground before fall.
The expansion and renovation project will include additions to the emergency department, a nearly 6,600-square-foot clinic building, an updated operating area, a renovated specialty clinic, new office space, meeting and training space, updates to current space and room for future growth.