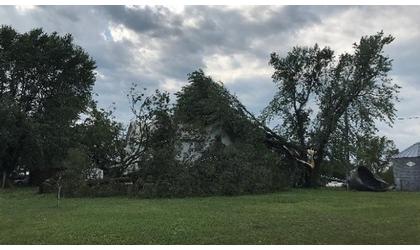 Credit: Nemaha Co Emergency Management
(MSC News)--Severe storms containing high wind, hail and heavy rain moved through the local area Thursday afternoon.
In Nemaha County, Emergency Management Director Russel Lierz said 70-mile per hour wind and hail were reported with a storm that moved through around 4:00, causing damage in the northeast portion of the county.
He said eight homes had siding damage and broken windows. The winds also brought down several trees.
Lierz also reported severe damage to corn and soybean fields.
In the Brown County community of Hiawatha, high wind caused tree damage throughout the community. Damage was also reported to signs in the downtown area.