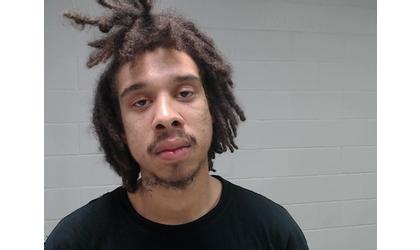 Andre Harris/Credit: Atchison Co Sheriff's Office
(KAIR)--An Atchison man has been charged after police say he used his crutch to attack another man outside of an Atchison apartment complex. "Apparently the physical altercation was precipitated by a verbal argument outside an apartment complex," Atchison Police Chief Mike Wilson told MSC News. "Apparently, the victim and the suspect did not know each other."
Wilson said 28-year-old Andre Harris was arrested Monday following the alleged altercation. "Shortly after 5:30 Monday afternoon, officers responded to a disturbance in the 1200 block of North 5th. There, we had a 22-year-old male who was reporting being struck in the face with an aluminum crutch. That investigation at the scene did lead to Harris' arrest."
Harris was taken into custody on charges of battery, possession of synthetic marijuana, and interference with law enforcement. "During the arrest, Harris did refuse to cooperate with the officers and he resisted the arrest," Wilson said.
On Tuesday, Harris was formally charged, and the battery charge was upgraded to aggravated battery at that time, according to jail records.
The 22-year-old victim was treated at the scene of the altercation by Atchison County EMS.
Following his arrest, Harris was booked into the Atchison County Jail.
His bond is set at $15,000.