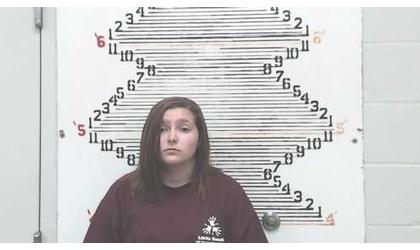 Teaini Simmons
(KNZA)--A Hiawatha woman facing a pair of child sex charges has entered into a plea agreement, cancelling a jury trial that had been set for September 11.
Teaini Simmons pleaded no contest Friday in Brown County District Court two felony counts of aggravated battery contained in an amended complaint.
Simmons had originally been charged with rape and aggravated indecent liberties with a child.
Brown County Attorney Kevin Hill said the plea was entered with the agreement of law enforcement who worked the case after consultation with the victim's family due to potential evidentiary issues that could have arisen at trial on the original charges and to avoid the trauma associated with testifying in such cases.
Hill said Simmons faces between 11 and 34 months in prison on each charge when she is sentenced September 27
She was arrested in May of last year following an investigation by the Hiawatha Police Department.
The investigation was launched after the department received a report from a concerned citizen that Simmons was romantically involved with a child under the age of 14.