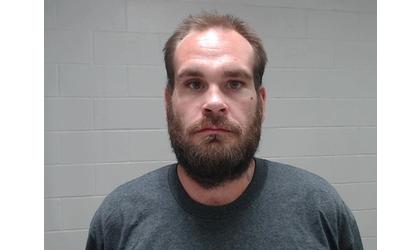 Scott Fowler/Credit: Atchison Co Sheriff's Office
(KAIR)--A summertime traffic stop leads to the arrest of an Atchison man on drug charges.
That's according to a report from Atchison Police Chief Mike Wilson, who said 33-year-old Scott Fowler was arrested this week, taken into custody on an Atchison County District Court warrant.
The warrant was issued following a July 5 morning traffic stop in the 400 block of South 6th Street, with Fowler arrested at that time for an outstanding Municipal Court warrant.
An on-scene investigation, which included the police department's K-9 officer, led to the discovery of what police allege was methamphetamine and drug paraphernalia.
Fowler was arrested Tuesday on the District Court warrant charging him with possession of methamphetamine and drug paraphernalia, as well as driving while suspended.
Following his arrest, Fowler was booked into the Atchison County Jail.
His bond is set at $10,000.