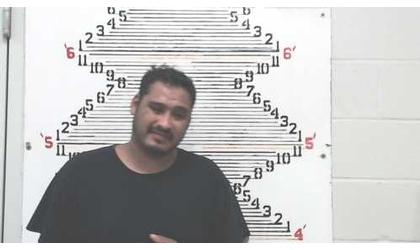 Adrian Ramirez/Credit: Brown Co Sheriff's Office
(KNZA)--An October 9 preliminary hearing has been set for a Fairview man facing charges in connection with a Brown County chase last week.
According to a report from Brown County Sheriff John Merchant, shortly before 4:00 the afternoon of August 27 a Sac and Fox Officer witnessed a black Durango near U.S. 75 Highway and 200th Road almost cause a wreck.
After the officer requested and was given permission to investigate, he activated his lights and siren and initiated a traffic stop.
As the officer approached the vehicle, Merchant said it drove away and a short chase ensued for several miles. At one point, the vehicle left the roadway and drove through a standing cornfield to try and elude the officer.
Merchant said a Brown County deputy located the vehicle in the vicinity of 210th and Coyote Roads.
33-year-old Adrian Ramirez was arrested on charges of reckless driving, flee and attempt to elude, criminal damage to property, no proof of insurance, illegal registration and tampering with an ignition interlock.
He is currently free on a $2,500 bond.